Gothic Night – detours on E. A. Poe
November 5th at 9 p.m.
Casa Barnekow, via V. Emanuele II 97, Anagni (FR)
It is an evening dedicated to the master of gothic Edgar Allan Poe. An event that embraces literature, science, art, theater, and music; a unique and original atmosphere born from the encounter of artists and enthusiasts.
Their union came out from their professional field, which has led to a comparison between different paths engaged by single performers up to that time to let their creations be known and to create a meeting point for everyone loving original compositions. From that experience was born the need to experiment with new expressive languages that could include the expertise of everyone.
All this and more is "Gothic night – digressions on E. A. Poe," a cultural event of
Casa Barnekow
, Saturday, November 5th at 9 p.m.
Born from the idea of ​​Lucilla Leone, expert in communication, and Franco Leone, astrophysicist and scientific popularizer, both passionate about Gothic literature and Poe's tales in particular, and with the collaboration of the director Velia Viti.
This evening aims, on the one hand, to investigate the stories, characters, and settings of the American narrator both from a literary and scientific point of view and, on the other hand, to translate those suggestions that derive from the reading of his texts into images (pictorial and performative) and sounds.
The multiple narratives, combining four distinct visions, artistic and scientific, rational and sensory, of Poe's dream and intellectual world are without precedent and reflect the authors' and director's bold creative choices.
After an introduction to the biography and work of the American writer, we will start with a speech by Franco Leone on the elements of astronomy and astrophysics widely present in Poe's work. In particular, in the lesser-known story "Eiros and Charmion." Following art will take the place of science, with the theatrical staging of three famous tales by the master, "Berenice," "The Oval Portrait," and "Ligeia," with the participation of Giorgio Michelangeli, Simona Carnevale, and Lucilla Leone, accompanied from the original music, created for this occasion, by the composer and conductor Cesare Buccitti.
During the evening, the solo exhibition of the Peruvian painter Marco Polo Rivera will also be inaugurated. Always imbued with gothic atmospheres, it will be featured at Casa Barnekow for the entire month of November.
Admission to the show is by free donation, subject to availability.
Reservations are recommended.
Why go
Barnekow House. The building is a splendid example of medieval architecture, built under the pontificate of the Anagnine Pope Gregory IX in the mid-23rd century. It is one of the most interesting monuments in Anagni (FR), located in Via Vittorio Emanuele II 93. The Swedish baron Albert Barnekow, painter and alchemist of the mid-19th century, decorated the facade with symbolic frescoes and tombstones that can still is worth being seen today. Inside it houses a small exhibition dedicated to alchemy.
It is open every Saturday and Sunday. Casa Barnekow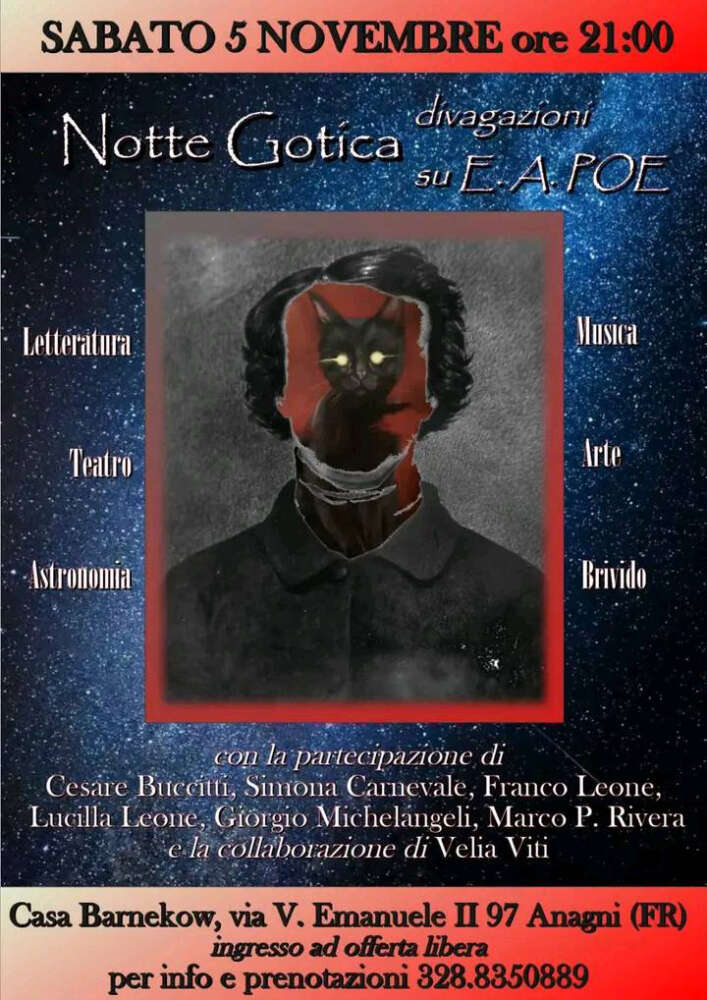 PREVISIONI METEO